Welter
Directed by Elena Demyanenko and performed by Dance Artists Laurel Jenkins, Chloë Engel and Elena Demyanenko. The piece will be performed at Middlebury College's Mahaney Arts Center on Tuesday, January 28, 2020.
He was and will remain a pattern for poets in his amphibious ability to plunge into the downward reptilian welter of the individual self and yet raise himself with whatever knowledge he gained there out onto the hard edges of the historical present.— Seamus Haney, on Robert Lowell
In coven I am interlacing three simultaneous solos which emerge out of prolonged work with color. The performers cohabit a viscous dimension of saturated light, their submergence in which is total. Infected by color, they exhibit symptoms which evince something ancient and essentially human, complete with a pre- or extra-lingual mode of communication that is evocative of glossolalia, invocation, incantation. The performers do not surrender agency by indulging this witchcraft; rather the spell endows them with a more evolved agency unmediated by language. The resultant, feverish state enables a direct, non-abstracted, non-symbological account of desire and its power.
Friction and asymmetry, both auditory and physical, serve to scramble preconceived notions of form and ways of knowing that otherwise inhibit this trancelike condition. This circumstance—of a disrupted surface—forces the performers to plumb their depths and locate an interstitial space between disappearance and emergence, charged with potential. It is here, in this lingering state of becoming, that embodied force is recovered, uncensored by history, experience, emotion, or the survival instinct. A new way of knowing is tacitly understood.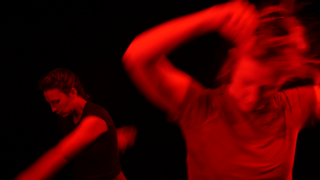 ARC
by Lenny Seidman
"Drum and dance traditions from all over the globe combined Fall of 2018 in the premiere of ARC, a multidisciplinary performance suite conceptualized by tabla artist, composer, and artistic director, Lenny Seidman. This original work melded North Indian tabla, Japanese taiko, and a hybrid of contemporary Western, Asian Pacific, and African Diasporic movement into one evening-length performance. To bring the work of ARC to life, Seidman enlisted the talents of eight highly-distinguished co-creators: tabla artists Daniel Ando Scholnick and Jonathan Marmor; taiko artists Joe Small, Kristy Oshiro, and Isaku Kageyama; and movement artists Laurel Jenkins, Orlando Hunter, and Ani Gavino. Together, the artists created ARC over the course of a three week residency at Swarthmore College, living and working together to build the piece from Seidman's early sketches. What resulted from their residency was an intimate, electrifying, and cross-cultural performance that convened an array of forms, styles, and disciplines." – excerpt and photo of dancers Orlando Hunter and Ani Gavino from Swarthmore 
The performance was reviewed by the Swarthmore Phoenix.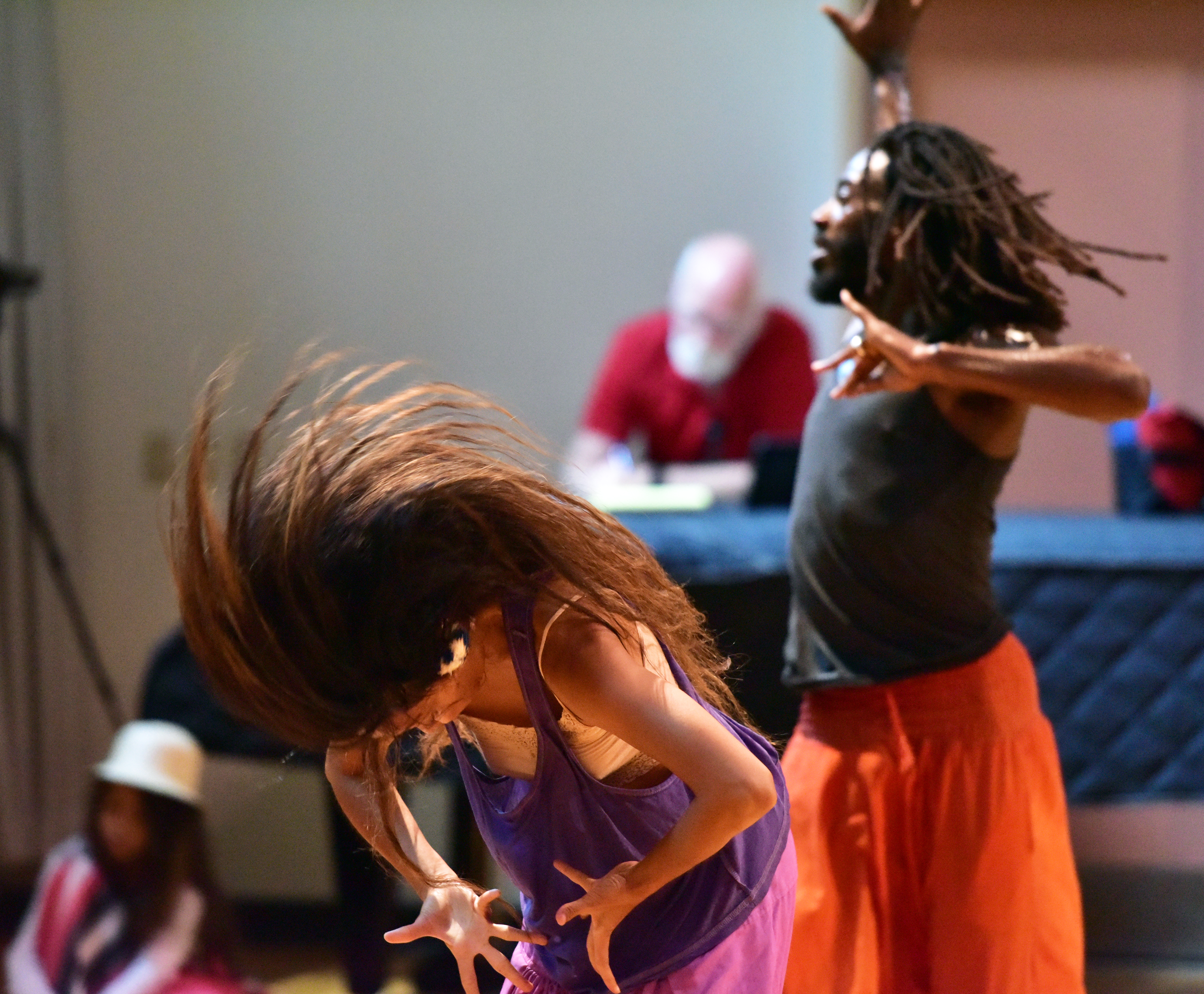 Illusions of Embodiment
by Jesse Fleming (http://jessefleming.com/) with performance by Laurel Jenkins
EMBODY, TOTAL RUNTIME: 10:37. SINGLE CHANNEL VIDEO, COLOR, SOUND, 4K. MOVEMENT + VOICE: LAUREL JENKINS.  ANIMATION + SOUND: PHILIP SCOTT
EMBODY IS AN EXPERIMENTAL PERFORMANCE OF IMMERSION, SOUND, MOVEMENT, EMBODIMENT, AND OUT OF BODY EXPERIENCING. THE PROJECT ILLUMINATES A POWERFUL AND IMPORTANT HAPPENING WITHIN VIRTUAL REALITY — AN ARRAY OF EXCITING, POTENTIALLY POSITIVE OR DANGEROUS HAPPENINGS FOR THE HUMAN PSYCHE. THIS PHENOMENA OF VIRTUAL EMBODIMENT OPENS CONVERSATION OF WHO OR WHAT "THE SELF" IS, AND FITS WITHIN THE CANONS OF PHILOSOPHY, SPIRITUALITY, PERFORMANCE, AND COGNITIVE SCIENCE; ALL SEEKING TO UNDERSTAND THE NATURE OF SELF.
"The initial surprise was just how easy it is to trick the brain. When you look at an avatar that's meant to be someone other than you, the temporo-parietal cortex stays quiet. But when the avatar starts mimicking your movements, showing your heart rate or speaking your words — all tricking your brain into thinking the avatar is your own body — the temporo- parietal cortex lights up, just as it does when you watch yourself in a mirror. Two minutes of simulation can override an entire lifelong experience when it comes to what your body is and where it is. It goes back to Descartes, "Cogito ergo sum." I think therefore I am. But if our brain adopts an avatar as a body, are we still? We seem to take for granted that our consciousness is in our body. But what if it's not?"
—Olaf Blanke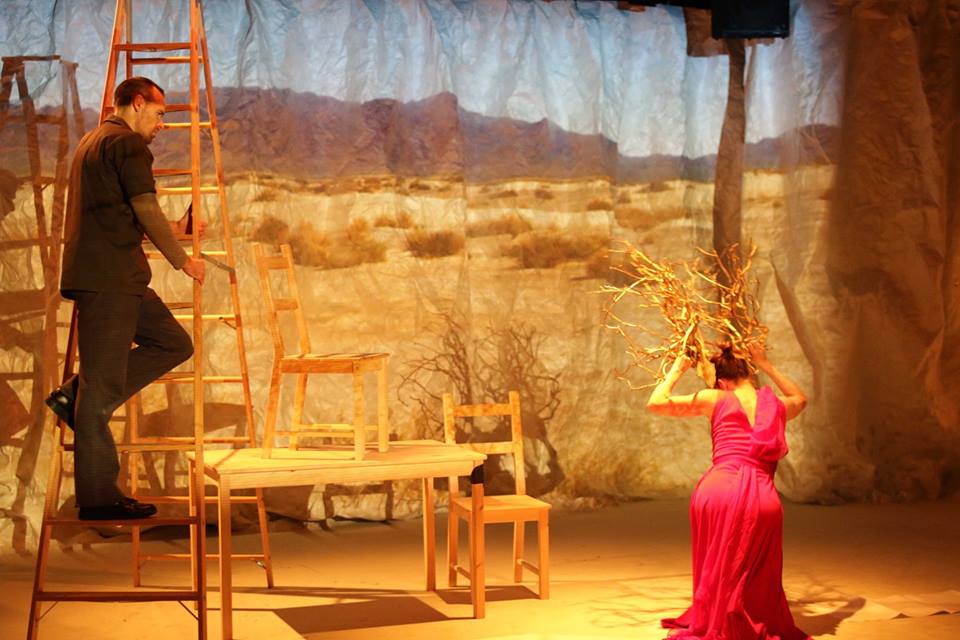 Studio of Earthly Delights
Made in Los Angeles 2017
Performance by: Laurel Jenkins, Kevin Williamson and Nick Rodrigues
Sculptures by: Nick Rodrigues
Filmed by: Matthew Seidman
Edited by: Ami Furgang
Tokyo Experiment: Taiko and Dance Live Event
Featuring:
Iratxe Ansa
Igor Bacovich
Norihito Ishii
Laurel Jenkins
Joe Small
Tasuku Tsuji
Presented by Sezon Art Gallery and Deviate Company
March 23, 2016
Thanks to Yoko Koike